Coins we buy:



Discovery Inventions

Unicorn Gold

Peacock Coins

Year of the Child

Panda Gold

Panda Silver
© Copyright 1998-2016
Clark Smith

Chinese Dragon and Phoenix Coins

This coin type was initially released in 1990. It features a phoenix above a dragon on the obverse. The reverse shows the Great Wall of China. The coins were made in gold, silver, and bimetal (gold/silver). The sizes minted include gold coins of 1 gram, 2 ounces, and 20 ounces. The silver coins include 2 grams, 1 ounce, 2 ounces, and 20 ounces. One bimetal gold/silver coin was minted which has 1/10th ounce gold and 1/28th ounce silver.


China 1990 and 1989 2oz Dragon Phoenix Gold 200 Yuan (pictured):

Please call if you have these scarce/rare Chinese coins. We are buying!


| | | | | |
| --- | --- | --- | --- | --- |
| Coin Date | Denomination | Size | Mintage | Rarity |
| 1989 | 200 Yuan | 2 ounce gold | Call for details | Rare |
| 1989 | 20 Yuan | 2 ounce silver | Call for details | Rare |
| 1990 | 1500 Yuan | 20 ounce gold | 250 | Rare |
| 1990 | 150 Yuan | 20 ounce silver | 1,500 | Scarce |
| 1990 | 200 Yuan | 2 ounce gold | 2,500 | Scarce |
| 1990 | 20 Yuan | 2 ounce silver | 5,000 | Common |
| 1990 | 10 Yuan | 1 ounce silver BU | 12,000 | Common |
| 1990 | 10 Yuan | 1 ounce silver PF | 80,000 | Very Common |
| 1990 | 10 Yuan | 1 gram gold | 50,000 | Common |
| 1990 | 1/2 Yuan | 2 gram silver | 50,000 | Common |
| 1994 | 10 Yuan | Bimetal gold/silver | 2,500 | Scarce |


Paying $8,500 to $50,000 and up

China 1989 1990 Dragon/Phoenix Sets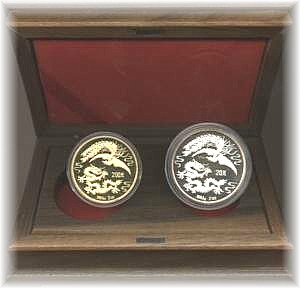 Certificates are yellow and blue: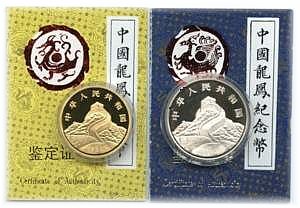 Paying from $2,000 to $8,000 and up

China 1994 Bimetal Coin
10 Yuan Denomination

China 1990 Silver 20 Ounces
150 Yuan Denomination
Call Clark Smith at 1-415-457-1371, or email us at info@coinvault.com